When I worked as the children's director at our church, I had lofty aspirations to sew a pair of booties for every newborn that was born in our congregation. Our church has this awesome tradition of bringing dinners to new parents and I would include a pair of booties with the meal. Then we had a huge baby boom and I couldn't churn these out fast enough. So this practice was dropped. Sorry to all the babies born after spring of 2009!
These booties are made out of wool felt and from this free pattern I found online.  Each set of booties were personalized for the newborn that they were going to.  The pink embroidered flowered one were for Josie, the light blue with the suede bottoms for Isaac, the red hearts for Joe, the chickies went to Morgan…
All lined up!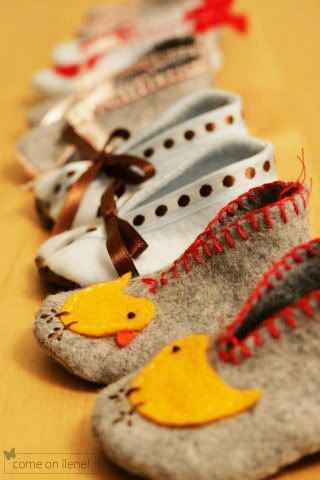 If you need some bootie inspiration, there is a flickr group where people post pictures of the booties they have made from this very pattern.  It's cool to see all the cute ways people have decorated their booties!
You might also like: